What makes OrthoKey so effective? We believe the answer is the design. OrthoKey's ergonomic patented design provides a comfortable grip for effective, hygienic and intuitive clear aligner removal. So compact, it fits inside standard aligner cases and is built to last an entire clear aligner treatment cycle. Last but not least, no more finger fishing for a hygienic removal process that will protect brittle nails, and manicures, and reduce finger strain. Each OrthoKey is individually inspected for quality and is individually wrapped. Simply use soap and water as needed to clean your OrthoKey Aligner Removal Tool. Don't start or continue your Clear Aligner journey without OrthoKey. Buy yours today.
High-Quality OEM aligner/retainer removal tool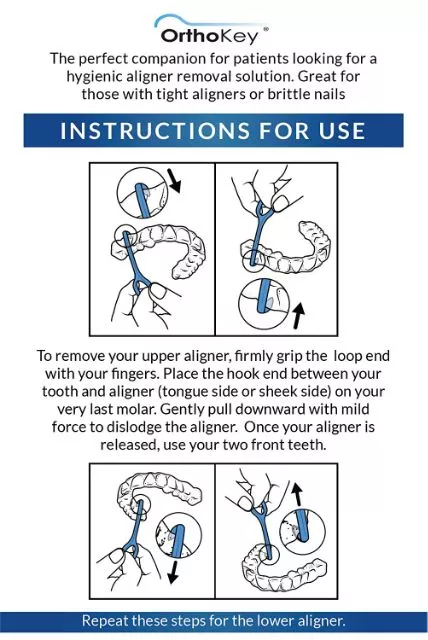 EASY ALIGNER REMOVAL – Taking off clear aligners by hand can feel messy, clumsy, and unhygienic. With OrthoKey, you can quickly navigate around buttons, release attachments, and remove retainers with a dynamic orthodontic assistance tool.
DURABLE AND COMPACT – At about 3 inches long, OrthoKey is small enough to manoeuvre easily in your mouth. Designed with safe, premium materials, this removal tool is long-lasting and easy to store in your aligner case.
HYGIENIC REMOVAL – Unlike removing aligners by hand, OrthoKey offers a hygienic removal process. The ergonomic patented design is intuitive and versatile, designed to support multiple grip postures.
MADE WITH SAFE MATERIALS – Food Compliant, BPA-Free, and Phthalate-Free, OrthoKey is made with the safest materials. Easy to clean, store, and transport, this remover tool is a convenient solution to removing aligners with buttons or attachments.
HOW TO USE ORTHOKEY – First, handle OrthoKey with your dominant hand. Reach with the hook end towards the opposite side of the back of the mouth. Engage the hook between aligner and tooth. Gently dislodge the aligner using gradually increased pressure until the aligner is separated from the teeth. Repeat steps 1-4 on the bottom.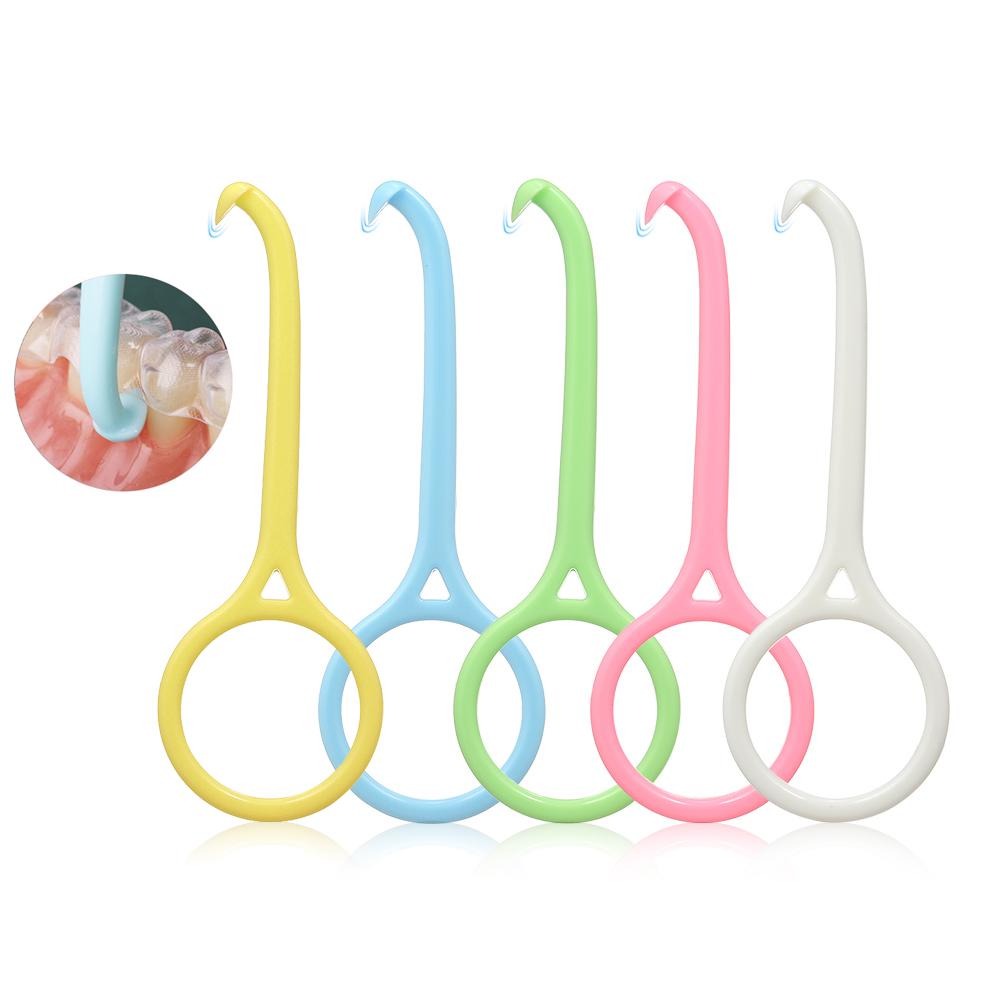 Features:
Type: Orthodontic Aligner Remove
Size: 2.8*8cm
Material: plastic
Colour: random
Ergonomic: providing a comfortable grip for effective and intuitive clear aligner removal
Hygienic: No more finger fishing for a hygienic removal process that will protect brittle nails, manicures, and reduce finger strain
Compact Durability, Compatctdesign fits inside standard aligner cases and is built to last an entire clear aligner treatment cycle
Orthodontic Aligner Remover helps to remove your aligners easily and quickly even with attachments on your teeth!
No more embarrassing or fearful moments struggling to get your aligners out and no more putting your hands in your mouth to remove your aligners