What are the benefits of WhitesmileClear?
WhitesmileClear ALIGNER has been developed especially as a discreet and virtually invisible appliance for patients with unique staging properties.
Multidirectional, efficient and effective tooth movement provided with a tri-stage method for complex movements and single stage aligners for extraction space closure.
Max Velocity, Minimum stages. The advantage on your side: Traditionally, clear aligner therapy presented with many weaknesses including failure to track in the vertical dimension. Our new
protocols and attachments extend the range of clear aligner treatments, giving both doctors and patients the confidence to approach challenging malocclusions.
Extending the range of Clear Aligner Therapy
Step1: Planning and Consultation. A scan, impression and bite registration are taken of the Maxillary and Mandibular arch, with reference to radiographic records. Cone beam computed tomography superimposition is possible where instructed. Our technicians will present a treatment movement plan to the doctor.
Step2: Fabrication. Computer-controlled production of the aligners takes place in the lab with an attachment template where necessary. Approximate turn around time – 3 weeks from receiving scan or impressions.
Step3:Refinement. Our unique plan includes refinement at no additional charge for 36 months.
Step4: Retention that protects your efforts. Whitesmile retainrite retainers are provided in an additional order, with 1 free replacement during a 24 month period.
How do aligner splints work:
Three virtually invisible material thicknesses, worn during 3 weeks for a unique and beautiful smile: With each treatment step, you'll be wearing 3 splints of different thicknesses. Thanks to this steady increase in pressure, your teeth are aligned efficiently, yet smoothly and with extraordinary comfort. For easy distinction, the corresponding degree of hardness is marked on the aligners in the posterior segment.
Gentle and contemporary
Aligning teeth with aesthetic high-quality splints is an important therapy in modern orthodontics. Especially for treating adults, this concept has proven successful. Experience enhanced tracking with new activated attachments and Whitesmile Integra – a family of complete orthodontic mechanics that provides continuously efficient and comfortable treatment results. There is a wide range, including extraction cases, of applications for the innovative WhitesmileClear ALIGNER splint:
Your advantages at a glance
Effective: Treatment will provide optimal, precise results in a short span of time.
Cost-effective: Much cheaper than competing aligner systems.
Transparent: Cleartrek splint materials are flexible yet discreet.
Comfortable: The aligners are pleasantly smooth, without brackets or wires.
Removable: The aligners can be taken in and out of your mouth quickly and simply at any time (e.g. when you're eating and brushing your teeth).
We are supplying sets of clear aligners made from advanced materials to dental clinics around the world, with each one used for a week before being discarded.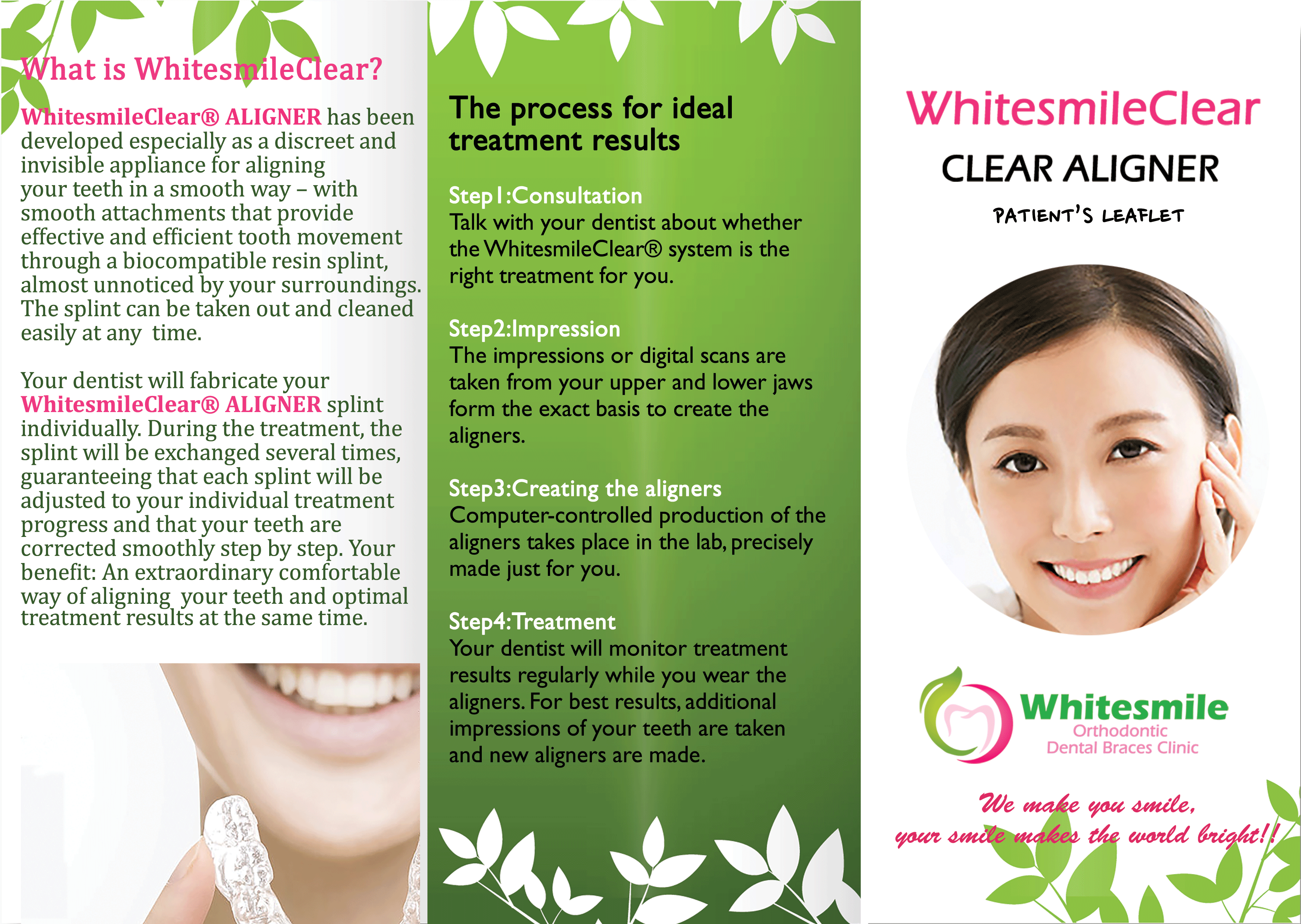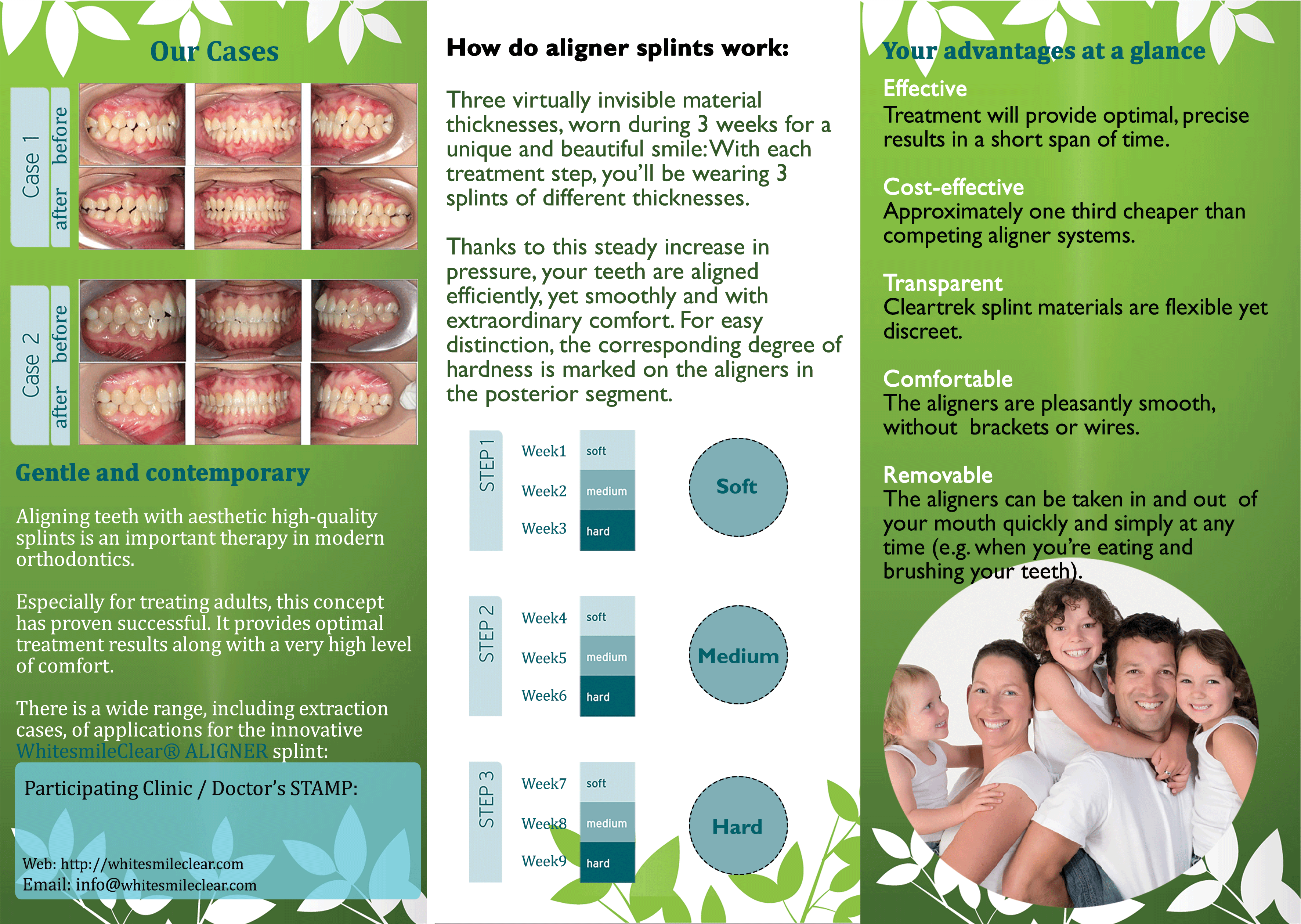 Treatment process:
Treatable Cases
From mild cases of crooked teeth and protruding teeth, to much more difficult dental problems involving serious malocclusion, overbite, or underbite, Whitesmile Clear effectively corrects a wide variety of dental problems. Whether your teeth are widely gapped, overly crowded or somewhere in between, Whitesmile Clear gives a teeth straightening option for you.